How to sustain business in recession? Help with business advisory
What is the impact of the pandemic on various businesses?
Market panic, of all the economic disruptions, is the most deadly. Since the global coronavirus epidemic (Covid-19), hysteria and anxiety are spreading faster than the virus among the population across the globe. Not only is Covid-19's influence restricted to the production side of the market, but the supply chain is still similarly hindered.
A pandemic has had a negative impact on the industry at all stages of history. Often called the Spanish flu, the 1918 influenza pandemic had a catastrophic effect on industries throughout the US and Europe. Although the precise amount of the total loss remains unknown, analysts concluded that, among other factors, the cumulative economic damage to US-based companies' sales was a double-digit percentage decline. Service providers and entertainment were the industries hit the most. In 2020, a similar ripple effect was created by the coronavirus pandemic in the global economy, where the overall impact loss is estimated at $1Tn.
How can a business advisory service help your business to sustain and grow?
Business Operations Consulting: Within the world of business operations, there are several consultancy sector subsets, because whatever problems the company faces, and whatever industry you are in, an experienced contractor should be able to help you become more lean, nimble, and sensitive to market shifts. Streamlining your corporate practices will save time, money, and energy for your company so that you can continue to expand and prosper.

Compliance issues: It should not only be a target for your business to comply with federal, state, and industry-wide regulations; it's a must. Regulatory enforcement can, however, be costly and time-consuming, causing some firms to cut corners that pose a significant risk of being fined or even shut down. Without hurting your bottom line, consultants can ensure compliance.

Investment Consulting: To make their empires expand, many corporations rely on investments. Smart investment can really fine-tune your business efficiency, but uninformed investing can prevent you from rising or even signal the downfall of a once-thriving corporation. Don't let your company make this happen. In order to get the organization on the right investment road, a seasoned and experienced expert will offer informed advice.

Marketing and Sales: If you don't have the in-house personnel to successfully handle your marketing and sales programs, you might lose your market niche to competition easily. Consulting firms will inject a new outlook to retain the cutting edge of the marketing and sales activities.

Technology Consulting: Technology is moving quicker than any of us can keep up with, and even the most experienced IT professionals can face a variety of hurdles as they try to keep their companies on the leading edge of creativity, efficiency and design without compromising the bottom line of the business. Again, this is where consultancy firms for corporate planning come into play. When the company has the resources it needs to expand and prosper, it's an opportunity that will pay off.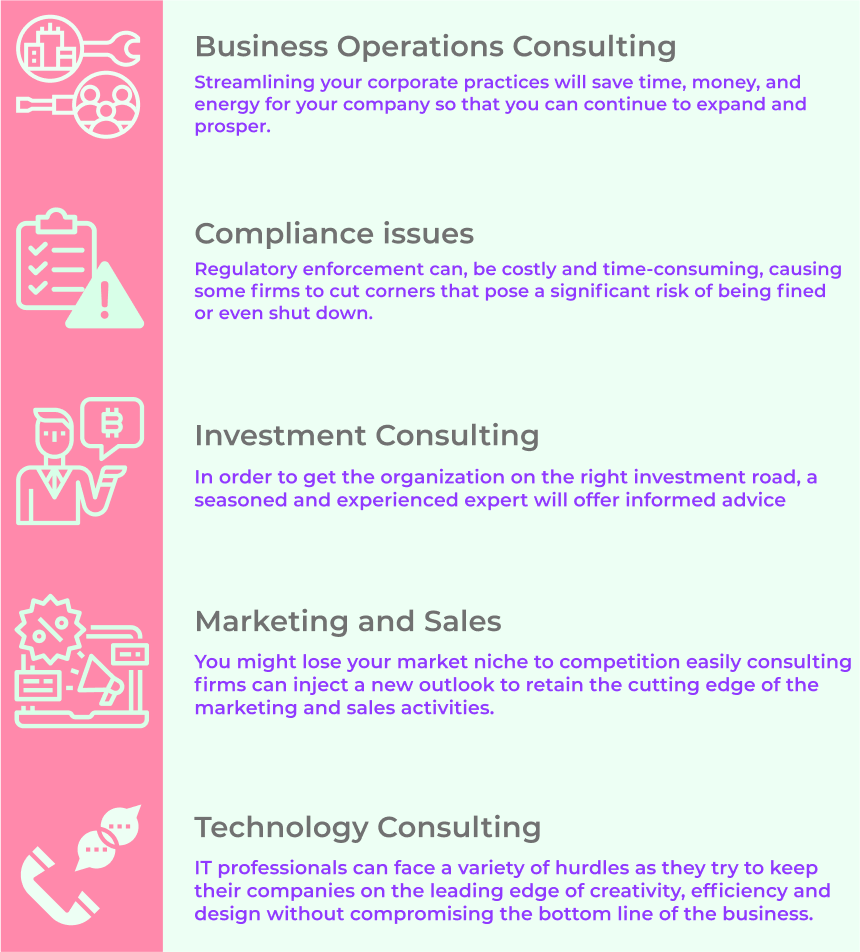 Bottom Line
Organizations of all sorts are hunting these days for new tactics that support their bottom line. For commercial firms, there is also the question of how to hold costs down without adversely affecting the company's brand image or credibility, or hindering growth.
A company consultancy firm can help find time-tested techniques that help an organization grow and prosper by not only minimizing costs but by making the best of its capital and making better strategic choices based on a comprehensive review of all the data available. The wrong action plan will cost exponentially more time and resources than it would cost to actually employ a contractor.
When floundering, business consultancy services will help companies make a fresh start, map a path for growth if they are only starting out or rising to greater heights if they do well and are trying to expand wisely. In the midst of the recent economic crisis, which caused many corporations to slash prices dramatically just to remain alive, this form of service has become more critical for a variety of companies.
Conclusion
Undoubtedly, the coronavirus pandemic has significantly influenced all business institutions, regardless of their strength and form of industry. All based sectors have also suffered badly, with the whole education market near a standstill (and the country under lockdown). In order to enforce a work-from-home strategy to ensure consistency of workflow, possibly the most daunting problem organizations are grappling with right now is moving their employees to online networks. A Business Advisory Service can help you deal with all these problems without much effort from your end.