What to look for when you suspect an employee is embezzling?
Employee Embezzlement is one of the much less discussed topics in the business domain, irrespective of the fact it holds very high stature. It not only causes a dent in the image of the firm but also damages the working environment in the firm. Hence a comprehensive approach needs to be sought for tackling such issues. It is crucial to also comprehend that embezzlement could be carried out by any employee enjoying any position; not necessarily senior managers and needless to say only big firms and multinational companies. To keep the brand image intact, often the process and actions are taken with the least coverage, but here's how to proceed if the firm has a suspicion on anyone:
Embezzlement is described as the phenomenon of workplace theft in which an employee, who is entrusted with the safety of tangible or intangible property, steals that very same property. It is independent of the hierarchy of the position as it can be done by anyone- senior managers creating fake invoices to lower-level employees such as mere cashiers pocketing a few dollars. Some of the note forms or types of embezzlement's include:
After payroll

Vendor fabrication

Creation of false employees

Misusing credit cards

Pocketing cash

Forging or altering cheques

Unauthorized signing off transactions

Kickbacks from vendors or clients
How can Embezzlement be identified?
Identification of any kind of workplace theft or embezzlement is certainly not an easy task, as the person who did this will take radical steps to keep the evidence under the carpet. But this is certainly the first step in the identification of the person and the theft; and as the preventive measure too. Though these signs or symptoms are an indicator, that embezzlement is undergoing.
Business-level:
Missing documents: If documents of performance and profitability such as invoices, receipts, financial statements, payroll records are missing simultaneously, then there may be a chance of embezzlement by any employee.

Inconsistency in accounting: Inconsistency in accounting is the key indicator of financial inconsistency, which generally includes unbalanced accounts or an inexplicable drop in the firm's funds. These inconsistencies should be addressed immediately.

Unusual activity: If any activity is carried out, which is different from the normal routine then suspicion should be raised. The firm inspector of the management should be aware of the process and then only will be able to identify the unusual. Some of the common ones can be- duplicate payments, unrecorded payments, altered o forge cheques, delayed payments, or strange transactions.
These signs may point towards ongoing embezzlement but may also be simple human-induced errors. Thus, assistance from a Certified Fraud Examiner may be required to investigate.
Employee-level: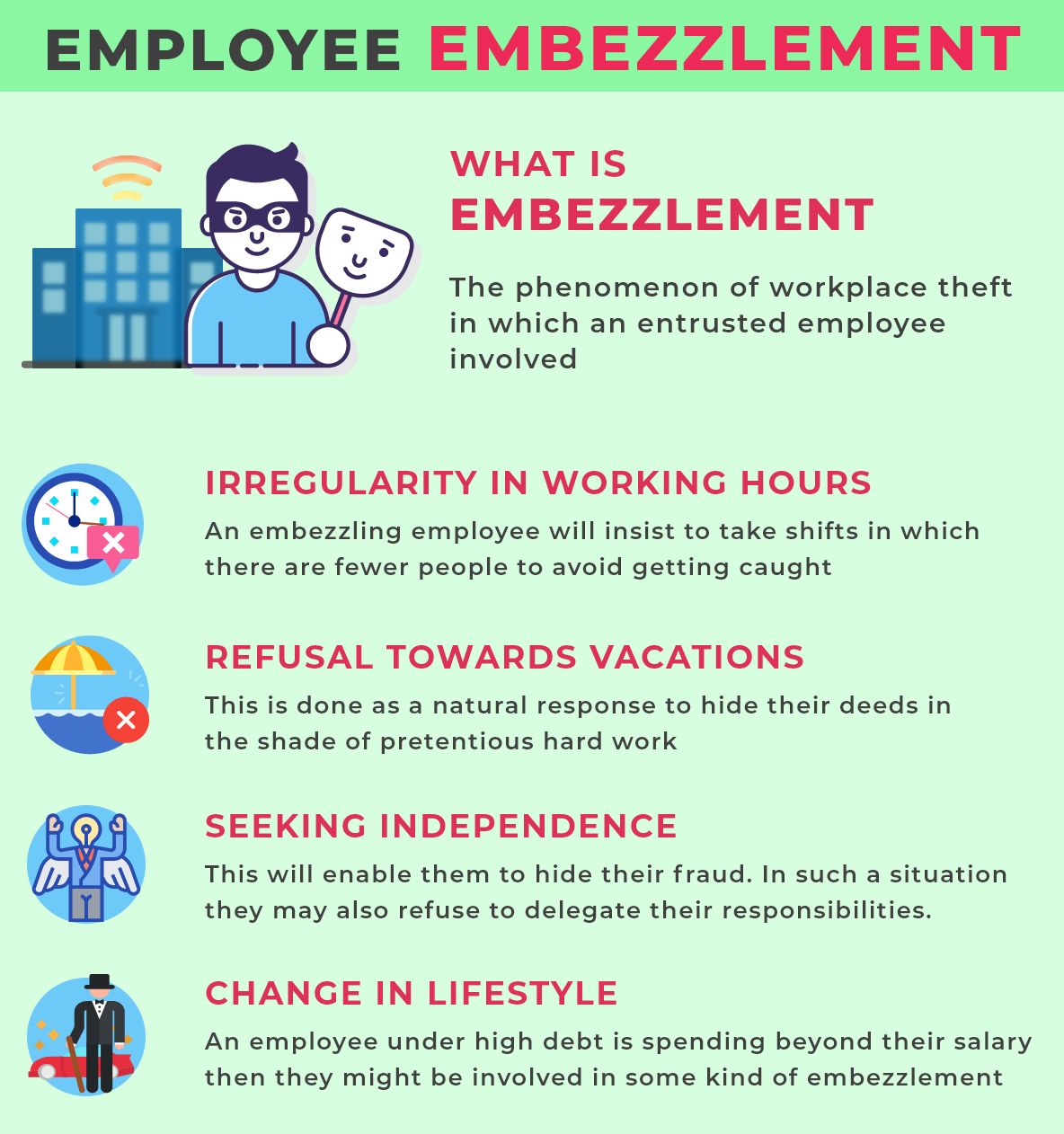 Irregularity in working hours: An embezzling employee will insist to take shifts in which there are fewer people to avoid getting caught. An employee who consistently does that is likely to engage in illegal behavior and falls under suspicion.

Refusal towards vacations: It may be perceived as a very good sign by the management, leaving an impression that the employee does hard work, but in reality, it may happen that something fishy is cooking up in the backyard. This is done as a natural response to hide their deeds in the shade of pretentious hard work.

Seeking independence: An employee who carries out embezzlement will be constantly seeking independence and freedom from answerability, as this will enable them to hide their fraud. In such a situation they may also refuse to delegate their responsibilities.

Change in lifestyle: If an employee is under high debt or spending lavishly beyond his salary levels, like purchasing a new car, jewelry, etc. then there are chances that they might be involved in any kind of embezzlement.



It is crucial to understand that all the signs mentioned above are indicators of any type of embezzlement that may be cooking inside the firm. This doesn't guarantee that it may be happening for sure and that too by a certain employee. Proper research and investigation must be done, preferably by a Certified Fraud Examiner before putting allegations and pressing charges.