10 ways how accounting and bookkeeping services can save money and time for startups
Introduction to accounting and bookkeeping services
Accounting is the revenue and expenditure monitoring process. In addition to being mindful of the financial condition of the business, an accountant is responsible for providing strategic financial advice.
Bookkeeping services are the mechanism by which financial activity documents are maintained and financial statements such as balance sheets and income statements are compiled. A bookkeeper will ensure that workers properly file invoices and charges and manage payroll in day-to-day activities.
10 ways in which businesses can save time and money through this service
Fetching Records:

Automated optical character recognition (OCR) data collection applications allowing you to automatically insert information into your accounting system are available in accounting and bookkeeping services.

Time Tracking:

A service provider can track time thanks to technology, even though that's not exactly an item that's billed to the consumer. You'll be able to use the time to drive labor cost distribution by monitoring time more effectively.

Management of expenses: Save time and resources by not having to build and approve your manual spreadsheets, speed up the process of acceptance, and remove the redundant entry of results. Accounting services will provide you with all such work.
Keep up to speed on business spending:

Keeping up on neglected financial records will take a lot of time and effort. For financial statements, there are also a few small companies that are a mess, so the company owner is busy with various facets of handling the business and has little time to bother with the monthly accounting.

Predictive Analytics tools provide insights into cash flow, burn rate, and other trends to forecast finances and mitigate risks.
It's easier to be vigilant with monitoring financial reports on a weekly and monthly basis instead of procrastinating and making everything pile up. If you have little time to keep up with these responsibilities, you should certainly see the advantages of having accounting and bookkeeping services to assist.
Keep track of business write-offs:

You need to provide clear evidence of losses that come under the scope of write-offs for the corporation as tax time comes around every year. A bookkeeping and accounting service will help you keep track of all costs so that you have documents available for the tax preparer to send over.

Outsource Payroll:

To make it easier for you to outsource payroll, there are several streamlined processes that can be introduced. Such programs can be customized to the particular needs of your company, making it easier for you to let a specialist service do it for you.

Comprehension about the financial condition:

When engaged in a business, you will always have costs and will need to know where your money comes from, where it goes, and how much is left, even though your company is very limited. You get a straightforward and reliable look into investments by recruiting an accounting and bookkeeping expert. It would give you a good look into the financial condition of your company to have an accountant and bookkeeping service taking care of your books and accounts.

Enhance the Problem-Solving Process: As far as bookkeeping and accounting are concerned, one of the best reasons to bring in accountant and bookkeeping services is that they can provide you with reliable solutions and guidance for problem-solving. For starters, several individuals struggle to keep their books up-to-date and they then question if they have managed to forget such a vital bit of knowledge from months before, many months down the road. Getting experts to handle your books and your investments on a daily basis ensures that they can be taken care of much faster, rather than later if any future concerns occur.
Stay on The Right Side of the Taxman:

As a company owner, keeping on the right side of the taxman is probably the most valuable piece of business advice that you can ever get. Your life will get a lot easier if you hire an accounting and bookkeeping service for the same.

Advisory Services: Most startups recognize the need for strategic guidance beyond bookkeeping and compliance. On-demand CFO services from specialized firms like Scouts and Harrington Group offer experienced finance experts available as needed. This provides valuable high-level insights tailored to entrepreneurs. Having a seasoned advisor helps you navigate cash flow, funding options, forecasting, metrics, and more. CFO services cost a fraction of a full salary to augment capabilities.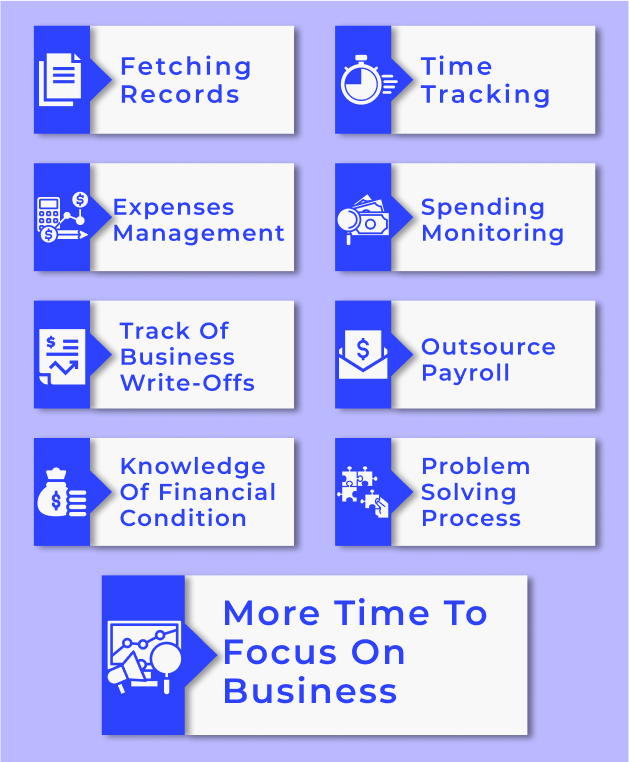 Conclusion
Don't leave your financial operations stuck in the past - modernizing will deliver substantial efficiency gains. The investment in outsourced financial management and technologies pays dividends in the long run by empowering smarter decisions and minimizing costly errors. Make this the year your startup gets accounting and bookkeeping firmly in check.
Accounting and bookkeeping firms will bring a whole host of various advantages and rewards to small companies, providing you with the best company to suit your organization. The dilemma faced by many small firms is that they want to cut corners and save on what they consider needless expenditures. The truth is that all of these costs are critical. You have to pay money to make money, and one of the first things you can do if you want to get your small business up and running is to look at accounting and bookkeeping services provided by experts.
NSKT Global is a top accounting firm in USA and UAE, that can advise businesses to set up and assist in accounting and bookkeeping.